The Mental Perception of Stress
Dear Writer,
We would like to thank you for choosing our research group to provide assistance with compiling all the necessary resources you will need in order to write a well-informed article about the importance of mental perception in stress management. We hope you find that the annotated bibliography we have produced is valuable in order to develop a thorough understanding of this topic with regards to the effects of stress perception on health pertaining to North American post-secondary students.
We have begun with an introduction to the topic in the form of a TedTalk presented by Kelly McGonigal, PhD, which will provide you with a good understanding of the very large role mental perception plays in the body's response to stress and then provided you with a preliminary list of definitions that will aid in the ease of understanding the material that follows. We went on to include primary research articles pertaining to the many ways stress effects the body and the positive implications of many of these natural reaction pathways. This is followed by articles pertaining to the most effective ways to better manage stress, by harnessing the power of a seemingly negative biological response and using it to improve focus and foster compassion. The biological reductionist approach taken by many of these articles allows for empirical and causal measures of the topic, having been yielded in laboratory settings and accounting for manipulated variables, and thus yielding conclusions backed by already established scientific laws.
Our aim was to provide you with a wide variety of primary research articles and supplement these sources with additional resources that will provide you with a deeper understanding of how the theoretical knowledge being established by recent studies is being incorporated into accessible tools for post-secondary students.
We wish you the best of luck on your writing process and look forward to seeing the final result.
Sincerely,
Bava, Clarelle, Hilary, Luisa and Mohammad
Introduction
---
Kelly McGonigal, PhD is a health psychologist at Stanford University and is known for her work on the relationship between mental perception of stress and its effects on the body. A Ted Talk done by Dr. McGonigal in 2013 highlights the way stress is perceived by North American society today and why this needs to change if we want to better our health and overall well-being. The talk brings to light how people are traditionally taught to fear stress and are constantly being reminded of how increases in stress can lead to serious health problems. Dr. McGongial, however, wants to change the average person's perception of stress and draws on studies that prove why this change in perception can be life changing. This video provides a very broad overview of the topic of mental perception and its relationship to the biological mechanisms of stress and therefore lays the foundation for understanding how changing one's perception of stress can have significant positive effects on one's health and well-being. The primary journal articles and supplementary sources that are presented in the various subcategories below go on to provide further information that addresses the effects of stress perception on health, the physiological stress execution pathway of the body, the positive aspects of stress, and ways to harness this information to benefit your own life in order to truly maximize the potential positive implications of changing one's perception of stress.
TedTalk (2013). How to make stress your friend. Retrieved from http://www.ted.com/talks/kelly_mcgonigal_how_to_make_stress_your_friend/transcript?language=en
---
Definitions
-
-
Body
the physical structure of a person or an animal, including the bones, flesh, and organs.
Health
a person's mental or physical condition.
Mental Health
a person's condition with regard to their psychological and emotional well-being.
Mental Perception
a way of regarding, understanding, or interpreting something; a mental impression.
Mind
the element of a person that enables them to be aware of the world and their experiences, to think, and to feel; the faculty of consciousness and thought.
Mindfulness Meditation
a mental state achieved by focusing one's awareness on the present moment, while calmly acknowledging and accepting one's feelings, thoughts, and bodily sensations, used as a therapeutic technique.
---
Effects of Stress Perception on Health
---
Perceived Stress and Mental Health
Perceived stress, internal resources and social support as determinants of mental health among young adults
Mental health is a fundamental determinant in the quality of life. Though mental health disorders are mainly prominent among younger populations, the role of perceived stress, social support and internal resources as a determinant of health is still widely unknown. This refers to how internal resources (self-esteem) and external resources (social support) help people to deal with stressful aspects of their lives. Researchers at the University of Geneva proposed three main mechanisms to explain how external resources such as social support may affect mental health. These include direct effect, indirect effect and buffer effect (Figure 1). In general, the purpose of this study was to explore the contributions of perceived stress, social support and internal resources as determinants of mental health. To carry out their research, the study consisted of a survey conducted among 1954 post-secondary students in which both mental health and stress was measured. Mental health was measured by a SF-12 health survey which is an instrument that allows computation of physical health and mental health summary score. Stress was measured using Brief Encounter Psychosocial Instrument (BEPI) which consists of five components: extrinsic demand, intrinsic demand, attributional demand, demand uncertainty and demand perspective. The stress score was constructed using the sum of all five components. This meant that a low score referred to low levels of stress and vice versa. Once results were obtained, researchers observed that there was in fact a strong correlation between mental health summary scores and stress. They determined that the stress scale was a strong predictor of mental health which respectively suggests that there is a strong direct effect of perceived stress on mental health (Figure 2). Researchers also determined that internal resources such as self-esteem displayed a beneficial effect on mental health by reducing the negative impacts of stress on mental health.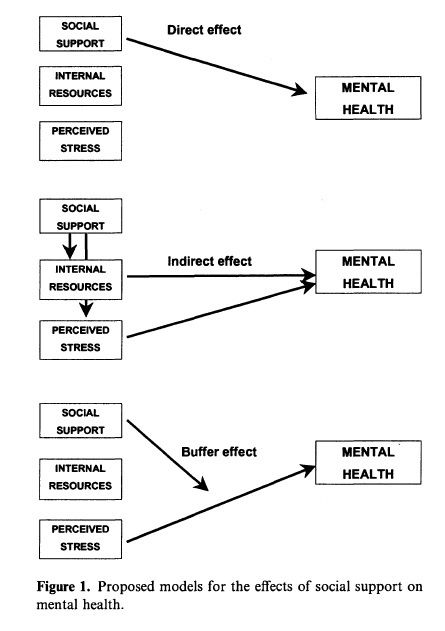 Definitions
1. Direct effect: A beneficial effect of social support on mental health, after controlling for other predictors of mental health
2. Indirect effect: Effects of social support are mediated through the promotion of internal resources and coping abilities
3. Buffer effect: Variation in the magnitude of the effect of social support on mental health across levels of stress by reducing negative impact of external stressors on mental health.
4. Extrinsic Demand: Individual's perception of balance between external demand and capability
5. Intrinsic Demand: Importance of individual's expectations as demands on oneself
6. Attributional Demand: Expectations and demands that individuals place on his/her physical or interpersonal environment
7. Demand Uncertainty: The fact that uncontrollable events can elicit greater stress response than demands over which individuals have control
8. Demand perspective: Ability to maintain perspective in the face of stressful demand
9. Perceived Stress: The assessment of potential impact of external stressors on the likelihood of reaching one's goal
Bovier, A, Chamot, E & Perneger, T. (2004). Perceived stress, internal resources and social support as determinants of mental health among young adults. Quality of Life Research, 13(1), 161-170. doi: 10.1023/B:QURE.0000015288.43768.e4
Role of Stress in Learning and Decision Making
Mechanisms of stress effects on learning and decision making in younger and older adults
Accumulating research on stress has suggested that stress does indeed influence learning and decision making especially when monetary rewards are involved. However, there is a substantial gap in the understanding of mechanisms of stress that affect learning and decision making in the brain. Research has proven that stress does affect numerous brain regions and networks involved in motivated learning and decision making which includes reward processing, attentional control, perception, and regions that involve cognition, affective and sensory info. The purpose of this study was to determine whether and how neural networks mediate stress effects on learning and decision making. To conduct this study, the researcher applied functional magnetic resonance imaging (fMRI) to determine specific neural mechanisms of stress effects. Results obtained from the study indicated that stress appears to affect the involvement of the dorsal striatum and anterior insula regions of the brain in young adults during risky decision making involving incentives (Figure 1). Furthermore, the research also indicates that stress releases various hormones called corticotrophins in the ventral tegmental area (VTA) of the brain which may respectively trigger reward seeking behaviour, thereby activating reinforcement behaviour. Additional evidence suggests that stress does alter brain activation of the dorsolateral prefrontal cortex (DLPFC) and anterior insula during tasks which involved emotional stimuli, hinting to alterations in decision making.
Lighthall,N. (2013). Stress modulates reinforcement learning in younger and older adults. Psychology and Aging, 28(1), 35-46. doi: 10.1037/a0029823
Role of Perceived Stress in Health Perception
Mental well-being mediates the relationship between perceived stress and perceived health
Many studies have indicated the stress and health are related through different measures of stress such as stress hormone levels and event scales. However, there is very little understanding in the relationship between perceived stress and health to mental well-being. The objective of this study is to determine the relationship between perceived stress and perceived health while examining mental well-being as a mediator by testing the following hypotheses: Perceived stress is inversely associated with perceived health and/or mental well-being mediates the relationship between perceived stress and health. Two hundred undergraduate students between the ages of 21 to 26 at Nanyang Technological University (NTU) completed three components which included perceived stress scale, health status questionnaire and Asian mental well-being scale. Results obtained from this study suggested that an inverse relationship exists between stress and health and also indicated that mental well-being does act as a mediator in that relationship. This refers to the notion that high perceived stress relates to poor mental well-being which then results in poor perceived health status. However, the research does point out that this association can be bidirectional.
Definitions:
1. Perceived Stress Scale: A scale that consists of two factors, perceived distress and perceived coping.
2. Perceived Distress: Assess the levels of distress with reference to stressful situations
3. Perceived Coping: Reflects the ability of an individual to deal with stressful situations
4. Health Status Questionnaire: Assesses perceived health status with respect to eight factors: health perception, physical functioning, bodily pain, role limitations dues to physical health problems, role limitations due to emotional problems, mental health, social functioning and energy
5. Asian Mental Well-Being Scale: Evaluates mental well-being with respect to values and perspectives of the Asian population which include self-esteem, social intelligence, emotional intelligence, resilience and cognitive efficiency
Teh, H. C., Archer, J. A., Chang, W., & Chen, S. H. A. (2015). Mental well‐being mediates the relationship between perceived stress and perceived health. Stress and Health: Journal of the International Society for the Investigation of Stress, 31(1), 71-77. doi: 10.1002/smi.2510
Perception of the Self and Wellbeing
Illusion and Well-Being: A Social Psychological Perspective on Mental Health
As stress research is becoming more and more prominent as a result of increasing stress disorders among the general population, theorists hypothesize that by having accurate perceptions of self, world and the future is critical for mental health. At the same time, however, multiple research evidence suggests that having overly positive self-evaluations, exaggerated perceptions and unrealistic optimism all are innate thoughts incorporated within human nature. Research provided from multiple studies do in fact suggest that these illusions do indeed play a key role in the promotion of other factors of mental health including the ability to care for others, ability to be happy and the ability to engage in productive and creative work. Illusions, in the general sense are beneficial in that they act as filters on incoming information which distort it in a positive direction. In this way, negative information is isolated and represented as unthreatening to the individual. These illusions serve as a protective measure for mental health in circumstances that may pose to be negative. These positive illusions will overall benefit the individual in that it will result in development of adaptations in employing positive illusions when individuals are situated in negative circumstances.
Taylor, S.E. & Brown, J.D. (1988). Illusion and Well-being: A social psychological perspective on mental health. Psychological Bulletin, 103(2), 193-210. doi: 10.1037/0033-2909.103.2.193
---
Biological Effects of Stess
---
Biological Process of Psychological Stress
Understanding psychological stress, it's biological processes, and impact on primary headache
In this article, researchers draw upon evidence illustrating that biological stress responses are initiated when the body perceives threats to normal functioning, therefore closely linking the onset of stress with the biological maintenance of homeostasis. This study goes on to investigate the particular regions of the brain that are activated during an onset of the biological stress response and how chronic activation of this stress response system leads to damage in the brain. Accumulation of this damage was shown to increase an individual's risks of infection from disease as well as heighten the severity of primary headaches. The study highlights the major ways in which stress can worsen headaches and how chronic headaches themselves go on to serve as a stressor and therefore become a trigger of more stress. This article highlights the importance for proper stress management techniques in order to decrease the potentially chronic and severe long term headaches that are closely linked to excessive amounts of experienced stress.
Nash, J. M., & Thebarge, R. W. (2006). Understanding psychological stress, its biological processes, and impact on primary headache. Headache: The Journal of Head and Face Pain, 46(9),1377-1386. doi:10.1111/j.1526-4610.2006.00580.x
Biological Consequences of Stress on Development
Stress and development: Behavioural and biological consequences
Besides being a significant social and public health issue, childhood abuse has been a part of numerous epidemiological findings. Biological effects as consequence of the stress created by the abuse may affect the neurological development of the victim. Research has found that adults who have suffered through childhood abuse and have been diagnosed with PTSD experience consistency in elevated levels of expression in their central stress response system over their adult lives. The study also linked excessive childhood stress with increased cortisol levels in the blood throughout adulthood in both children with diagnosis of PTSD and women with childhood abuse history. These biological changes in the extent to which the stress response is expressed in later life were then linked to decreases in mental capacity and verbal ability. This study provides a very thorough analysis of long term stress and its ability to alter psychical brain structure, therefore negatively effecting both memory and development if not properly managed during early onset.
Bremner, J. D., & Vermetten, E. (2001). Stress and development: Behavioral and biological consequences. Development and Psychopathology, 13(3), 473-489. doi:10.1017/S0954579401003042
Biological Origins of the Stress Response
Biological sensitivity to context: I. An evolutionary- developmental theory of the origins and functions is stress reactivity
This article focuses on explaining the biological reaction of an individual to psychological stressors in the presence of a perceived threat. The researchers analyzed the specific pathways that are initiated in the body at the onset of stress and the role that these pathways play in the maintenance of homeostasis. These pathways were shown to be strongly influenced by the level of stress being faced at the time of study as well as the overall health of the individual. This article provides a clear explanation of the evolution of stress reaction pathways and how excessive amounts of stress cause these pathways to function at less than optimal efficiencies. The research carried out indicates that an individual's reaction to stress is strongly influenced by the number of times the individual has been faced with traumatic experiences in the past and that heightened responses by the stress response system increase an individual's risk of both physical and mental disorders. This article highlights strong links between the extent to which an individual produces a stress response and the effectiveness of this response in coping with the perceived stressor. This provides evidence in support of proper stress management techniques being necessary in order to ensure that the stress response system is functioning at maximal optimal capacity as opposed to being inhibited by excessive stimulation.
Boyce, W. T., & Ellis, B. J. (2005). Biological sensitivity to context: An evolutionary–developmental theory of the origins and functions of stress reactivity. Development and Psychopathology,17(2), 271-301. doi:10.1017/S0954579405050145
Role of Stress in Brain Development
Stress and the developing brain
This articles main purpose is to create a better understanding of the brain's development with environmental factors, which influence gene expression, structure and function. Gene-environment interactions are viewed through changes in the prefrontal cortex as its structures change from adolescence to adulthood. Repeated exposure to stress has consequences on the developmental programming of the brain regions responsible for responding to stress, primarily the prefrontal cortex. This article goes on to analyze major periods of brain development during adolescence with regards to brain regions that are vital in the stress response system in later life. It is vital for the proper development of this stress response system in the brain during adolescence in order for the proper management of stress in adulthood. This article illustrates the physical interaction between stress and the structure of the brain and allows the reader to see the importance of focusing on brain structure as a mechanism and tool for better managing stress in early and late adulthood.
Wright, L.D., Hebert, K.E., & Perrot-Sinai, T.S. (2008). Periadolescent stress exposure exerts long-term effects on adult stress responding and expression of prefrontal dopamine receptors in male and female rats. Psychoneuroendocrinology,33(2),130-142. doi:10.1016/j.psyneuen.2007.10.009
Biological Determinants of Stress on Health
Stress and health: psychological, behavioural, and Biological Determinants
It is clear that stressors have a significant effect on individuals, from influencing our mood and behaviour to affecting our health and well-being. This article focuses on the biological effects of stress and how it varies based on the severity of the present stressor. Acute stress responses following a stressful event, can influence changes in the nervous system, cardiovascular, endocrine, and immune systems. The stress response adapts due to two features. First, stress hormones are released so that the body has energy stored for immediate use. Second, a pattern of energy distribution emerges. This energy goes to the tissue that increases in activity during stress, this tissue is mainly in the brain and the skeletal muscles. The acute stress response can also become maladaptive if it is activated often and continuously, leading to increases in blood pressure and vascular hypertrophy, and in turn increases an indivdidual's risk of heart disease. This stress response may have a more severe effect on older adults due to less antibody production whereas acute stress in young as healthy may be adaptive. This article highlights the ways in which young adults are particularly resilient to the potential negative effects of stress and this provides benefits in terms of maintaining homeostasis with greater ease and therefore better coping with one's surroundings and causes of stress.
Schneiderman, N., Ironson, G., & Siegel, S. D. (2005). Stress and health: Psychological, behavioral, and biological determinants. Annual Review of Clinical Psychology, 1, 607–628. doi:10.1146/annurev.clinpsy.1.102803.144141
Role of Perception on the Cardiovascular Stress Response
Mind over matter: reappraising arousal improves cardiovascular and cognitive response to stress
This article is referenced in the TedTalk featured in the introduction and focuses on how changing one's perception on the way in which stress impacts our health can have a physical effect on our biological response to stress. Researchers studied whether reappraising a stressful situation could alter normal cardiovascular response to the same situation. Participants were randomly assigned to treatment groups. In one of the groups, participants were told to think of their body's response to the stress they were about to undergo as adaptive and functional. The other two groups were used as control groups. The study found that the participants who were instructed to reformulate their thoughts on the benefits of the stress inducing situation demonstrated increased cardiovascular efficiency characteristzed by lower vasulcular constriction. This article provides empirical data illustrating the role mental perception has on altering normal biological responses of the body when faced with stress and its potential to greatly improve overall health.
Jamieson, J. P., Nock, M.K., & Mendes,W.B. (2012). Mind over matter: Reappraising arousal improves cardiovascular and cognitive responses to stress. Journal of Experimental Psychology:
General, 141(3), 417-422. http://dx.doi.org/10.1037/a0025719
---
Positive Implications of Stress
---
Understanding the Positive Side of Stress
Stress is an instinctive response that dates back to our ancient ancestors as a method of coping with danger. When confronted with a threatening situation, our body immediately releases hormones such adrenaline and cortisol that raise our blood pressure and heart rate, boosting our speed and helping us stave off danger. Although most people perceive stress as being harmful and damaging to our well-being, this section includes three positive effects of stress that serve in counteracting the common misconception. The webpage by the American Psychological Association serves a supplementary resource in order to better help you gain an overview of the key biological responses to stress and how these have persisted through evolutionary time as a way of better equipping individuals with the tools they need to survive through times of stress.
American Psychological Association (2013). How stress affects your health. Retrieved from http://www.apa.org/helpcenter/stress.aspx
Stress As a Source of Motivation
One of the positive implications of the stress response system is that it activates the release of hormones that increase adrenaline and drives individuals to perform tasks more quickly and efficiently, a particularly practical response when working to meet tight deadlines. This article is a supplementary resource which gives a brief overview of the way in which stress can act as a motivator or primary reinforcer for many people, as long as their perception allows them to view it in this way. Stress has been shown to better the ability of individuals to evaluate their options and reach decisions quickly, in situations when time is not a luxury they have. The article goes on to look at other studies that have shown the ability of stress to better critical thinking and problem solving skills. Once an individual begins to experience the effects of stress, due to a innate biological response prompted by stimuli that are perceived to present threats to the individual, they are more likely to attempt to correct the problems they are being faced with than allow these problems to grow, therefore, allowing the stress itself to serve as a force which drives the individual in question into action.
Health Guidance (n.d.). The positive effects of stress. Retrieved from http://www.healthguidance.org/entry/15537/1/The-Positive-Effects-of-Stress.html
Ability of Stress to Improve Mental Capacity
­
This article focuses on the ability of stress in enhancing mental capabilities in rats. The research done has shown that individuals faced with stressful sitations were able to recall certain pieces of information more quickly than individuals in situations in which no sources of stress were perceived. The research done has allowed this phenomenon to be attributed to the ability of stress to narrow the attention of individuals, therefore enabling them to concentrate all available focus on the task at hand. This process has led to the facilitation of both learning and memory processes due to an increased amount of focus that becomes available for use on one particular topic or subject area. Acute stress primes the brain for better performance and boosts our concentration due to the result of higher cortisol levels in the body and this increase in alertness has been shown to help improve job performance. The researchers, working at the University of California, went on to say that stress encourages stem cell growth in the brain, which facilitates new neuron development and boosts mental agility. This was seen in adult rats that were left immobilized after a conditioning test. The immobilized rats were shown to have higher levels or stress hormones in their blood which then increased the rate of development of neural stem cells in their hippocampus. This study uses laboratory tests and data to show that stress has positive implications on the brain and its development and with proper management of stress, these positive effects can be harnessed.
Kirby, E.D., Muroy, S.E., Sun, W.G., Covarrubias, D., Leong, M.J., Barchas, L.A. & Kaufer, D. (2013). Acute stress enhances adult rat hippocampal neurogenesis. Elife. doi: 10.7554/eLife.00362
Stress as a source of Physical Empowerment
In addition to improving neural pathway development in the brain, stress has also been shown to increase endurance levels. This blog article featured on Yale University's website is a supplementary resource that takes a look at studies that have investigated this topic and the possible implications of their finding for humans in their everyday lives. The article begins by looking at how stressors trigger the release of hormones responsible for increasing heart rate as well as the rate of metabolism. This allows individuals to reach decisions faster when faced with dangerous situations. When faced with extreme stress, this response is referred to as the "fight or flight" response and has been shown to have evolutionary significance in the form of survival value. The article explores how the word "stress" usually carries a negative connotation; however it has the ability to bring about both productivity and well-being. This article highlights how stress can be a very positive natural response with biological implications that improve chances of survival, and these positive responses are heightened when stress is viewed in a more positive light. The article goes on to explain the importance of "positive re-framing" in order to reconstruct thoughts about stress and the way in which this has been shown to yield significantly positive results leading to increased overall health and well-being.
Goldberg, Emma. (2013, February 26). Stress may offer workplace benefits. Yale Daily News. Retrieved from http://yaledailynews.com/blog/2013/02/26/stress-may-offer-workplace-benefits/
---
The Benefits of Meditation as a Tool for Stress Management
---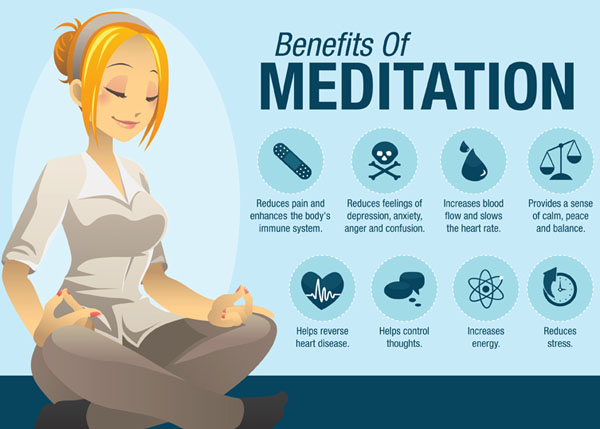 Effects of Meditation on Perceived Stress in College Students
Does daily meditation or coherent breathing influence perceived stress, stress effects, anxiety, or holistic wellness in college freshmen and sophomores? Boston College.
The effects of stress on post-secondary students have been well documented in a variety of studies and have been shown to have effects on physical, mental and spiritual health (Baker, 2012). This article draws on these past studies as well as research in which post-secondary students identify stress as the greatest barrier to academic success (Baker, 2012) to identify practices that students can implement in their own lives in an effort to overcome both the negative physiological and mental effects of stress. The study conducted examines the effects of coherent breathing as well as daily meditation as two regulatory stress management techniques on the perceived stress of 37 freshmen and sophomores at Boston College. Each of these techniques were implemented independently on two groups of students. When compared to the control group, each of these stress management techniques were shown to decrease the secretion of stress inducing hormones in the post-secondary students. When test results were compared to the control group, both coherent breathing and meditation as independent stress management techniques reflected positive effects, lowering measured anxiety levels and self-reported perceived stress and holistic wellness scores. Although the results of this study prevent generalization due to a limited sample size and geographic region from which the sample was taken, this study provides insight as to serves as to the value of college programs that teach stress management techniques and their potential to significantly lower the mental barrier of stress perceived as an obstacle to academic performance while increasing overall self-reported wellness in students, leading to an overall reduction in stress hormone secretion. This article allows insight to be gained into the perception of stress by college students as it analyzes the extent to which post-secondary students consistently identify stress as a barrier to academic performance. Furthermore, it provides scientific evidence that highlights the way in which mediation and breathing, as self-implemented stress management techniques can eliminate stress as a perceived barrier by changing students' perception through seminars on mediation and breathing techniques and their benefits, thus leading to a reduced negative physiological reaction to the onset of perceived stress.
Baker, N.C. (2012). Does daily meditation or coherent breathing influence perceived stress, stress effects, anxiety, or holistic wellness in college freshmen and sophomores? (Doctoral dissertation). Retrieved from ProQuest Dissertations & Theses Global Database. (Accession No. 2012159538)
Role of Meditation in Stress Management and Increased Forgiveness
Meditation Lowers Stress and Supports Forgiveness Among College Students: A Randomized Controlled Trial. Journal of Americal College Health
Due to major changes in lifestyle as well as increased pressure for both academic and social success, undergraduate students experience significant amounts of stress which have increased significantly over the last two decades. This article again draws from a study done in 2004 in which post-secondary students reported that stress was the number one barrier to academic success (Oman, 2010). This article goes further to examine the components of stress for undergraduate students and identifies perceived stress, forgiveness of others and hope as resilience factors that can serve as identifiers in determining the extent to which holistic wellness is suffering as a result of extreme stress. This article explores the importance of the ability to manage excessive stress as an important developmental skill for undergraduate students. In doing so, the effects of meditation based intervention for stress management were studied in an undergraduate student population. Previous studies have linked the inability to actively manage stress to increased risks for suicidal thoughts, depression and hopelessness among other physical diseases in post-secondary students (Oman, 2004). This evidence highlights the need for proactive stress management techniques to be implemented in post-secondary institutions. The effects of two of these stress management techniques, mindfulness-based stress reduction (MBSR) and Easwaran's Eight Point Program (EPP), on the perceived stress, forgiveness of others and hope were studied extensively in an effort to provide guidance in the development of stress management programs across North America. Both techniques include developing attitudes to increase focus and mindfulness (awareness of processes currently taking place both within and around the individual). These findings provide statistical evidence that undergraduate students benefit from stress management techniques. Although limited by a small sample size, each of the four factors being tested for showed significant improvement, and as indicators of holistic health in undergraduate students, the implementation of stress management programs is highly encouraged across North America.
Oman, D., & Shapiro, S.L. (2010). Meditation lowers stress and supports forgiveness among college students: A randomized controlled trial. Journal of American College Health, 56(5), 569-578. doi: 10.3200.JACH.56.5.569-578
Neuroendocrine Stress Response Altered by Meditation
Effect of Compassion Meditation on Neuroendocrine, Innate Immune and Behavioural Responses to Psychosocial Stress
This article draws on studies that have established a link between meditation practices and their pronounced effects on physiological pathways in the brain that facilitate the stress response and are central to the onset of both physical and mental disease (Pace, 2008). The effects of meditation on these neurological pathways has been shown to result in an increase in a calmed state, improved focus and an increase in an individual's ability to express compassion. This study examines the effects of meditation grounded in compassion, referred to throughout the study as compassionate mediation, and its effects on the innate immune response, neuroendocrine response and behavioural response to stress. 61 healthy adults were randomly selected and placed into two groups. One group underwent training and practice in compassionate mediation while the other group, which served as the control group, participated in discussions that revolved around health for 6 weeks. Both groups were then exposed to a standart laboratory stress test, the Trier social stress test (TSST) and their responses were evaluated by measuring their blood plasma concentration levels of interleukin and cortisol, two hormones closely linked to the exectution of the stress response in humans. A total distress score was also taken using the Profile of Mood States (POMS). The results showed that the group that underwent meditation training demonstrated a reduction post TSST interleukin concentration and POMS score when compared to the control group. This data was significiant and reveals that individuals who undergo meditation training and practice are far more likely to experience reduced immune and behavioural responses when faced with stressful conditions and therefore are likely to decrease their risk for long term mental and physical disease. Due to the small sample size, the study limits these results to the individuals who engaged in the mediation training and encourages further exploration for the effects of meditation on neuroendocrine levels in dividuals of various ages and various health catergories.
Pace, W.W., Negl, L.T., & Adame, D.D. (2009). Effect of compassion meditation on neuroendocrine, innate immune and behavioural responses to psychosocial stress. Psychoneuroendocrinology, 34(1), 87-89. doi: 10.1016/j.psyneuen.2008.08.011
Supplementary Sources
---
An Overview of Mindfulness Meditation
Mindfulness meditation may ease anxiety, mental stress.
In this post by Harvard Medical School's Health Publications Blog, which offers advice on how to lead a healthier lifestyle supported by emerging scientific studies and evidence, analyzes the practice of mindfulness meditation and its effects on stress management as well as the limitations of the studies currently available regarding this topic. This article provides a very clear overview of the subject of mindfulness meditation and its role in stress management, listing both the potential advantages as outlined by the various studies that have been published on the technique as well as important ideas to keep in mind to maintained an unbiased view of the immerging data. This post consults Dr. Elizabeth Hoge, a professor of psychiatry at Harvard Medical School, who encourages the practice of mindfulness meditation in the management of stress and anxiety as she points out the theory behind the practice only supports the positive results that have been found to date. You may find this useful in attempting to acquaint yourself with the practice of mindfulness meditation and the role it is said to play in stress management in order to gain an expansive understanding of the practive before exploring the published articles that study various subsets of mindfulness meditation and the effects on various sample populations.
Corliss, J. (2014, January 8). Mindfulness meditation may ease anxiety, mental stress. Harvard Health Publications. Retrieved from http://www.health.harvard.edu/blog/mindfulness-meditation-may-ease-anxiety-mental-stress-201401086967
Learn Mindfulness Meditation and Breathing
Learn: Mindfulness of breathing
This article is found on the website of Kelly McGonigal, PhD and health psychologist at Stanford University who is known for her research on the positive effects of stress and the role of mindfulness meditation in the management of excessive stress. This article features a clear and concise outline of how to practice effective mindfulness meditation in order to maximize its effects. This article may be helpful because it provides a structured guideline to meditation for beginners and has a link to a youtube video in which Dr. McGonigal guides listeners through a session of mindfulness meditation. This may help you better acquaint yourself with the traditional practice of mindfulness mediation in order to better understand how the varous studies featured above were carried out and provides you with a change to explore the practive of mindfulness meditation in order to evaluate its potential benefits in your own life.
McGonigal, K. (2012). Learn: Mindfulness of Breathing. Retrieved from http://kellymcgonigal.com/2012/09/12/mindfulness-of-breathing/
Effects of Meditation on Brain Structure
Learn: This is your brain on meditation
This article was featured in the Yoga Journal and outlines the effects of meditation on the brain by providing an analysis of new studies emerging that are exploring the possibility that meditation has the potential to restructure the brain. The bulk of this research comes from University of California Los Angeles researcher Eileen Luders. In this research, MRI machines were used to compare the brains of 22 meditators and 22 non-meditators of the same age of each of the original meditating participants. Although there was no correlation between the types of meditation of each of the meditating participants, nor was there consistency with the length of time the individual had been participating in meditation, the MRI scans showed an increase in the amount of grey matter in the brains of the meditators than that of non-mediators. Grey matter is linked with emotion regulation and attention as well as mental flexibility which is what is responsible for making the meditating group more efficient at managing their emotions and making better decisions. The research shows the advancements being made in the field of neurophysiology with respect to stress and stress management techniques of meditations. The article goes on to give a brief overview of other research that is showing a growing link between mediation used for stress management and its effects on improved attention and increased compassion. This article provides a summary on the many positive implications of meditation that are currently being researched and discussed in the articles featured above and therefore may provide you with a more in depth understanding of the primary resources presented in this annotated bibliography as well as avenues for further exploration of researchers whose research relates to these fields of study.
McGonigal, K. (2011). Learn: This is your brain on meditation. Retrieved from http://kellymcgonigal.com/2011/09/18/article-this-is-your-brain-on-meditation/
Stress Management Workshop - York University
York University provides free stress management workshops for students that enable them to better cope with anxiety and fears by teaching relaxation techniques aimed at changing perception related to stress. This is a valuable resource as it may enable you to see how these stress related management techniques that involve a change in stress perception work and the effects they can have on your own life in order to make the topic more relatable. This may also provide you with an opportunity to meet university students and interview them in order to gain an inderstanding of their experience with stress and their interest in these workshops.
Personal Counselling Services (2013). Stress management workshop. Retrieved from http://pcs.info.yorku.ca/event/workshop-stress-management/
Mindfulness Meditation Workshop - York University
The Healthy Student Initiative at York University hosts free, daily, drop in Mindfulness meditiation sessions thoughout the academic year. This link provides you wth the schedule and location of these sessions. You may find it beneficial to attend one of these sessions in order to gain a better understanding of the pravtice of mindfulness mediation as well as to get the opportunity to speak with the organization responsible for founding this initiative in order to gain insight as to the response that they've been receiving from students and the science that they are using to structure these sessions.
York University Events (2014). Mindfulness meditation for the healthy student initiative.Retrieved from http://www.yorku.ca/yuevents/index.asp?Event=33161&Category= 57&ShowCal=&TimeSame=Oct&Month=10&Year=2014&EventTitle=York%20Events:%20Mindfulness+Meditation+for+the+Healthy+Student+Initiative
---
Conclusion
---
Having acquired various sources of information that thoroughly explain the way in stress effects post-secondary individuals in North America it is clear to see that coping with stress has become an increasingly prominent issue for this particular demographic. Analyzing articles that pertain to the biological effects of stress and the natural stress response system of the human body, evidence mounted in favour of excessive stress being the cause of significant neurological development impairments with regards to memory and learning as well as a variety of other heath determinants, therefore jeopardizing the well-being of individuals when faced with times of extreme stress. Although stress has the potential to cause these problems, the triggers of stress are ever present and very difficult to eliminate for most students and the positive implications of stress show strong support in favour of the survival value and benefits of this very natural bodily response. As a result of this, a person's perception of whether or not stress is harmful to their health has become the focus of research in the field of health psychology and has shown to have a significant impact on overriding the negative physical implications of stress and instead view stressful situations as having the potential to improve our physical health as well as our overall well-being. Studies have shown that mindfulness meditation has been most effective in achieving this goal as it focuses on a shift in mindset in favor of the potential benefits of stress as opposed to aiming to eliminate it completely from our lives, a seemingly impossible task. The resources featured in this annotated bibliography pave the way for an article well informed about the common misconceptions individuals hold with regards to stress, the potential benefits, and the ways in which these benefits can be maximized. Universities and other post-secondary institutions across North America have been using these methods as tools for stress management in an effort to enable students to better cope with stress.
---
References
---
American Psychological Association (2013). How stress affects your health. Retrieved from http://www.apa.org/helpcenter/stress.aspx
Baker, N.C. (2012). Does daily meditation or coherent breathing influence perceived stress, stress effects, anxiety, or holistic wellness in college freshmen and sophomores? (Doctoral dissertation). Retrieved from ProQuest Dissertations & Theses Global Database. (Accession No. 2012159538)
Bovier, A, Chamot, E & Perneger, T. (2004). Perceived stress, internal resources and social support as determinants of mental health among young adults. Quality of Life Research, 13(1), 161-170. doi: 10.1023/B:QURE.0000015288.43768.e4
Boyce, W. T., & Ellis, B. J. (2005). Biological sensitivity to context: An evolutionary–developmental theory of the origins and functions of stress reactivity. Development and Psychopathology,17(2), 271-301. doi:10.1017/S0954579405050145
Bremner, J. D., & Vermetten, E. (2001). Stress and development: Behavioral and biological consequences. Development and Psychopathology, 13(3), 473-489. doi:10.1017/S0954579401003042
Corliss, J. (2014, January 8). Mindfulness meditation may ease anxiety, mental stress. Harvard Health Publications. Retrieved from http://www.health.harvard.edu/blog/mindfulness-meditation-may-ease-anxiety-mental-stress-201401086967
Goldberg, Emma. (2013, February 26). Stress may offer workplace benefits. Yale Daily News. Retrieved from http://yaledailynews.com/blog/2013/02/26/stress-may-offer-workplace- benefits/
Health Guidance (n.d.). The positive effects of stress. Retrieved from http://www.healthguidance.org/entry/15537/1/The-Positive-Effects-of-Stress.html
Jamieson, J. P., Nock, M.K., & Mendes,W.B. (2012). Mind over matter: Reappraising arousal improves cardiovascular and cognitive responses to stress. Journal of Experimental Psychology:
General, 141(3), 417-422. http://dx.doi.org/10.1037/a0025719
Kirby, E.D., Muroy, S.E., Sun, W.G., Covarrubias, D., Leong, M.J., Barchas, L.A. & Kaufer, D. (2013). Acute stress enhances adult rat hippocampal neurogenesis. Elife. doi: 10.7554/eLife.00362
Lighthall,N. (2013). Stress modulates reinforcement learning in younger and older adults. Psychology and Aging, 28(1), 35-46. doi: 10.1037/a0029823
McGonigal, K. (2012). Learn: Mindfulness of Breathing. Retrieved from http://kellymcgonigal.com/2012/09/12/mindfulness-of-breathing/
McGonigal, K. (2011). Learn: This is your brain on meditation. Retrieved from http://kellymcgonigal.com/2011/09/18/article-this-is-your-brain-on-meditation/
Nash, J. M., & Thebarge, R. W. (2006). Understanding psychological stress, its biological processes, and impact on primary headache. Headache: The Journal of Head and Face Pain, 46(9),1377-1386. doi:10.1111/j.1526-4610.2006.00580.x
Oman, D., & Shapiro, S.L. (2010). Meditation lowers stress and supports forgiveness among college students: A randomized controlled trial. Journal of American College Health, 56(5), 569-578. doi: 10.3200.JACH.56.5.569-578
Pace, W.W., Negl, L.T., & Adame, D.D. (2009). Effect of compassion meditation on neuroendocrine, innate immune and behavioural responses to psychosocial stress. Psychoneuroendocrinology, 34(1), 87-89. doi: 10.1016/j.psyneuen.2008.08.011
Personal Counselling Services (2013). Stress management workshop. Retrieved from http://pcs.info.yorku.ca/event/workshop-stress-management/
Schneiderman, N., Ironson, G., & Siegel, S. D. (2005). Stress and health: Psychological, behavioral, and biological determinants. Annual Review of Clinical Psychology, 1, 607–628. doi:10.1146/annurev.clinpsy.1.102803.144141
Taylor, S.E. & Brown, J.D. (1988). Illusion and Well-being: A social psychological perspective on mental health. Psychological Bulletin, 103(2), 193-210. doi: 10.1037/0033-2909.103.2.193
TedTalk (2013). How to make stress your friend. Retrieved from http://www.ted.com/talks/kelly_mcgonigal_how_to_make_stress_your_friend/transcript?language=en
Teh, H. C., Archer, J. A., Chang, W., & Chen, S. H. A. (2015). Mental well‐being mediates the relationship between perceived stress and perceived health. Stress and Health: Journal of the International Society for the Investigation of Stress, 31(1), 71-77. doi: 10.1002/smi.2510
Wright, L.D., Hebert, K.E., & Perrot-Sinai, T.S. (2008). Periadolescent stress exposure exerts long-term effects on adult stress responding and expression of prefrontal dopamine receptors in male and female rats. Psychoneuroendocrinology,33(2),130-142. doi:10.1016/j.psyneuen.2007.10.009
York University Events (2014). Mindfulness meditation for the healthy student initiative.Retrieved from http://www.yorku.ca/yuevents/index.asp?Event=33161&Category= 57&ShowCal=&TimeSame=Oct&Month=10&Year=2014&EventTitle=York%20Events:%20Mindfulness+Meditation+for+the+Healthy+Student+Initiative
page revision: 125, last edited: 15 Apr 2015 15:21